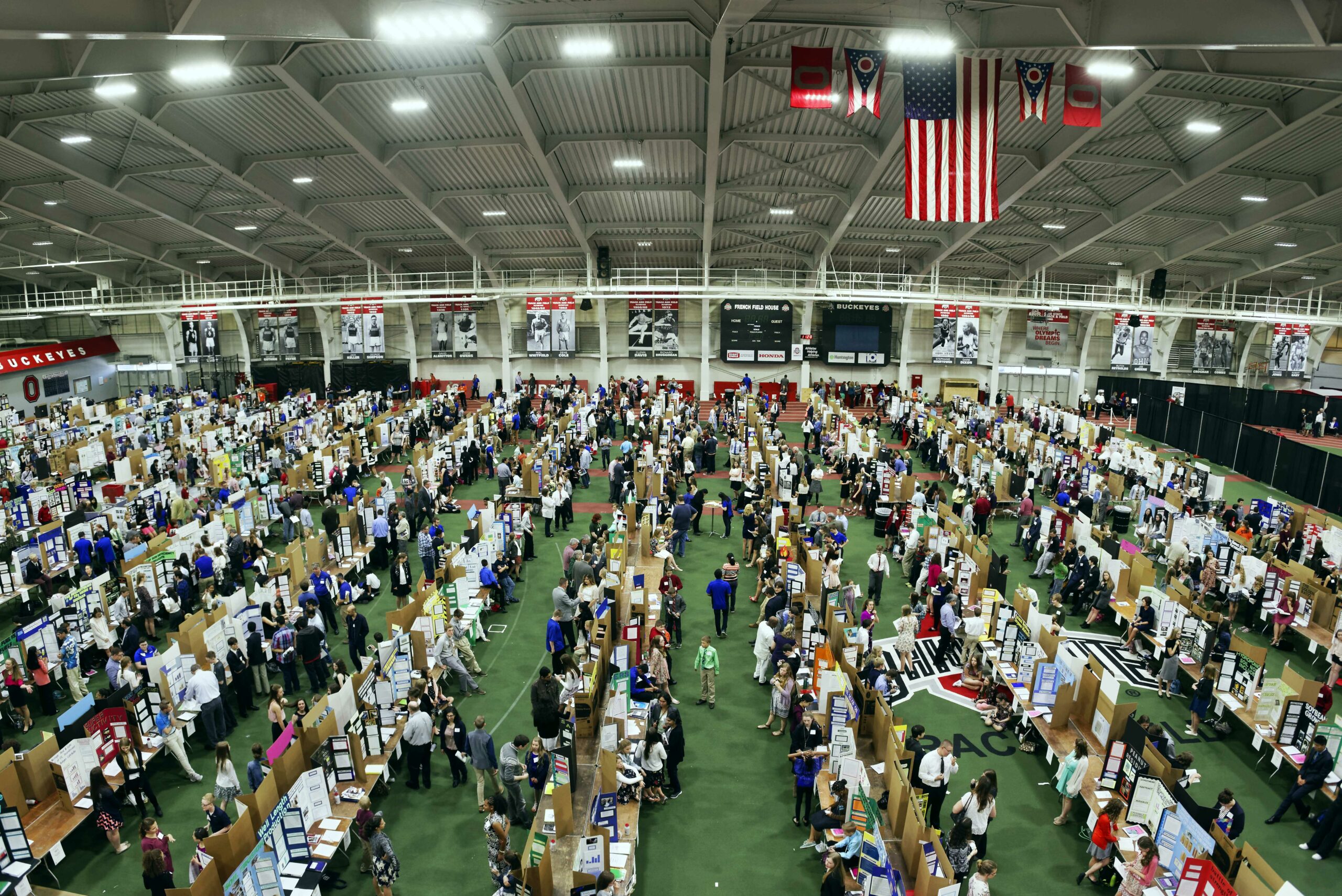 _DSC8163_DxO_Low Res_RR
SSD SPONSORSHIPS
STATE SCIENCE DAY INFORMATION
WHAT IS STATE SCIENCE DAY? State Science Day is a program of The Ohio Academy of Science (OAS). Since 1949 – and now with more than 60,000 alumni – State Science Day is the pinnacle of student-originated, inquiry-based science and engineering education for Ohio's students. The academic equivalent of a state athletic championship, State Science Day is one of the largest science fairs in the nation.
State Science Day Timeline
April 7-8, 2023: Student projects released to judges.
April 24 or 25 , 2023: State Science Day results announced. Superiors will receive invitation to the State Science Day Celebration to be held at The Ohio State University on Saturday, May 13, 2023 at the Student Union. RSVP due by May 1, 2023.
May 13, 2023: State Science Day Celebration and Award Ceremony at The Ohio State University by invitation only. 
Communication about State Science Day: Please use a home/personal/parental email with your ProjectBoard versus a school-based account. Most school email systems have filters that will block our communications to student accounts. Please update your email in your ProjectBoard account to a non-school email today.

This year's State Science Day (SSD) will be virtual. Students selected at their District Science Day to attend State will need to create and upload their presentation video, and their Quad Chart to ProjectBoard before the registration deadline of April 3, 2023 at 11:59pm.

Scholarship & Sponsored Awards will be offered.
STATE SCIENCE DAY QUALIFICATION
Students can qualify for State Science by earning a Superior at their District Science Day. For more information on District Science Days, visit the District Science Day page.
For Independent Students, the Ohio Academy of Science will have both an SRC (Scientific Review Committee) and an IRB (Institutional Review Board). Independent students who need an SRC or IRB approval can send an email to SRCforms@ohiosci.org
STATE SCIENCE DAY REGISTRATION
Registration Timeline: Students will be able to register from March 26th to April 3rd at 11:59pm. Students will have time from March 26 to April 3 to make changes to their final report, abstract, and presentation based on feedback from the District Science Day. Registration will close on Sunday, April 3rd at 11:59 PM. Students must have their final report, abstract, link to presentation video, and Quad Chart added to ProjectBoard before the deadline of Sunday, April 3rd at 11:59 PM. Late project submissions will NOT be accepted.
Registration Fee: The registration fee is $60.00 per student. Registration fees must be paid by April 3rd via the payment form:
https://form.jotform.com/OhioScience/state-science-day-payment-form
The registration fees collected go towards the financial operation of the fair and are non-refundable. 
Registration is NOT complete until payment is received.
Individuals will pay by credit card.
Schools wishing to pay for their students need to send a purchase order or call 614-389-2182 to pay by credit card. The students will select "My school is paying. My teacher will contact Mrs. Dorie Gruber at dgruber@ohiosci.org

"

on the payment form.
Instructions for Purchase Orders:
PO's are made out to "The Ohio Academy of Science" and emailed to dgruber@ohiosci.org. PO's and checks should be mailed to 5930 Wilcox Pl Ste F, Dublin OH 43016. Please list student(s) on the PO/Check.
Please note your teacher must email dgruber@ohiosci.org before the April 3rd deadline to confirm the school is paying your registration fee. Registrations are NOT complete until payment is confirmed. Please call the Academy at 614.389.2182 with questions.

Official State Science Day Merchandise: All orders for SSD merchandise will be by on-line sales only through the OAS website from March 25th to April 17th . Please visit: https://ssd.ohiosci.org/shop/
School Awards: Schools with four or more projects will be considered for the HAROLD C. SHAW MEMORIAL OUTSTANDING SCHOOL AWARD if all award criteria are met. Student withdraws after the registration deadline will disqualify the school for this award.
STATE SCIENCE DAY CELEBRATION!
The videos below will help to guide students and parents in putting together the required pieces of each project, recording your presentation (15-minute maximum) and uploading it to YouTube, and there is also an example presentation from a student.
This video will help students in putting together their Science Day requirements for virtual judging.
Videos can be recorded on cell phone and uploaded to YouTube, watch this video to learn how. Videos should be a maximum of 15 minutes.

Learn how to complete the ISEF forms and why they are needed.
Watch this short video to ensure the settings of your submission are correct on YouTube
The Academy offers information and forms for teachers that are needed for students competing in State Science Day.
This "wizard" asks a series of questions about your planned project and will provide a list of forms that you need to complete.
Judging Rubric
The 2023 State Science Day will be virtually judged with an updated single, judge scorecard.