Slide
District Science Day Materials
Teachers - read below for the most up to date student information for District Science Day
For the 2021-2022 school year, plans include a return to 17 separate DSD registration sites which will be administered by each respective District Council. Milestone requirements must align with the State Science Day site to facilitate a seamless transfer of registration data of promoted projects. These sites will be designed to allow each District to decide whether to provide in-person judging only, in-person of most projects with virtual judging for students unable to physically attend (hybrid approach), or virtual judging only. Regardless of the District's choice, all projects must be registered on-line and all milestones must be completed. If a District is unable to provide any form of District Science Day, students from that District may participate in a separate virtually judged District Science Day administered by the OAS office, to be known as "District 18".
DISTRICT SCIENCE DAY LINKS
Use the District Links below to review the requirements and dates for the 2021-2022 District Science Days.
District Science Day Links
* Students who do not wish to attend an in-person event can enter the District 18 virtual fair.
DISTRICT SCIENCE DAY MATERIALS
Standards
Required Forms
Science Day Guides
Other Import Information
Judging Rubrics
Because the 2022 State Science Day will be virtually judged, as well as a number of District Science Day projects, an updated single, judge scorecard will be used at all events to provide continuity in judging.

CERTIFICATES FOR COMPETITIONS
The certificate below can be downloaded and used at Local and District Science Days.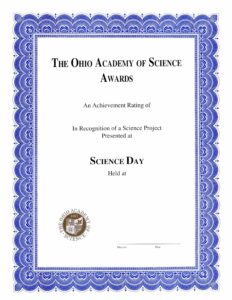 Schools that complete a local competition can download and print the needed certificates.
Schools and Districts who award the Governor Awards at the local or District level and download and print the needed certificates.