Calling All STEM Students & Teachers!
BEGIN YOUR STEM PROJECT JOURNEY
Enjoy our state-wide programs for students and teachers using ProjectBoard – the platform for developing and displaying STEM projects.
Start a project today! Visit our project gallery, to get ideas and to celebrate last year's success.
SUBMITTING TO DISTRICT SCIENCE DAY
To begin a project or to prepare to submit a project for the 2024 District Science Day:
students must create or re-activate last years' account in ProjectBoard by December 15, 2023. They will need a class code from their participating classroom teacher. If they are an independent student not connected to a classroom educator or afterschool facilitator, please contact the Ohio Academy of Science for your code at: info@ohiosci.org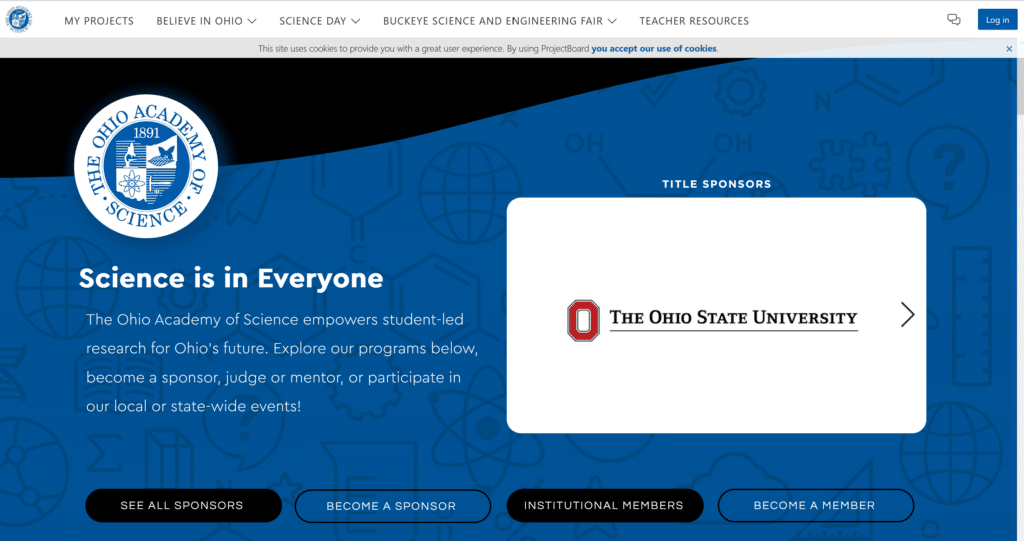 The Ohio Academy of Science will be using Project Board for all programs moving forward.
complete the necessary required "tiles/sections" in their project template (ISEF forms, consent and release, abstract and final report; quad chart and up to 15 minute video needed for District 18 fair ONLY) and then,
make sure that none of the "tiles" are in "Ready for Review" mode. They can be "completed" or in "draft" mode
make sure ISEF forms, consent and release form, final report and abstract are uploaded 
check student profile information for completeness
submit the project.
Please read all of the information provided before beginning! Additional information can be found by visiting our OAS Youtube Channel. 
Registration for District Science Day will be from December 18, 2023 to February 26, 2024. A "Submit" button is located at the top of the student's project in ProjectBoard. Students will use this button and select which event(s) they are registering for. Please watch the following videos and review the registration manual BEFORE beginning the submission.